Overview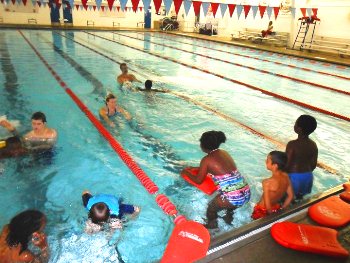 We work to raise awareness and educate youth and their families about water safety to prevent drowning.
Who is most at risk?
Males: Nearly 80% of people who die from drowning are male.
Children: Children ages 1 to 4 have the highest drowning rates.
In 2007, among children 1 to 4 years old who died from an unintentional injury, almost 30% died from drowning.
Fatal drowning remains the second-leading cause of unintentional injury-related death for children ages 1 to 14 years.
Minorities:
Between 2000 and 2007, the fatal unintentional drowning rate for African Americans across all ages was 1.3 times that of whites. For American Indians and Alaskan Natives, this rate was 1.7 times that of whites.
Rates of fatal drowning are notably higher among these populations in certain age groups. The fatal drowning rate of African American children ages 5 to 14 is 3.1 times that of white children in the same age range. For American Indian and Alaskan Native children, the fatal drowning rate is 2.3 times higher than for white children.
Factors such as the physical environment (e.g., access to swimming pools) and a combination of social and cultural issues (e.g., wanting to learn how to swim, and choosing recreational water-related activities) may contribute to the racial differences in drowning rates. Current rates are based on population, and not on participation. If rates could be determined by actual participation in water-related activities, disparity in minorities drowning rates compared to whites would be much greater.
*source CDChttp://www.cdc.gov/HomeandRecreationalSafety/Water-Safety/waterinjuries-factsheet.html